services-Electrical
Rewire and Upgrade your Panel
Green Power Electric Inc. is a professional certified electrical contractor . We can provide you with just about any Electrical service you can think of.

All you have to do is Call Us.

Our electricians are available 24 hours a day and they will be there for you in case of an electrical emergency or even just for a maintenance job that requires immediate attention.

No waiting and no worrying, just a job done fast and professionally.
Panel Upgrade
An electrical panel upgrade can be necessary for a number of reasons. Many people still live in older houses with electrical components that are woefully outdated.
These components include such iconic symbols as fuse boxes. Replacing the fuse box with a modern and safe circuit breaker panel will do much to raise the safety level in an older house.
Re-Wire
Rewiring a home involves pulling out the old wires and installing new ones. A partial rewire may be all that's needed when some of the existing wiring is salvageable. Other times, all that's needed is to add a "ground wire" for safety. Most homes built before 1950 have cloth insulated wiring. The cloth insulation deteriorates with age and may need upgrading. In addition, such systems are ungrounded.
Over 2,000,000 homes in the U.S. built or renovated between the mid-1960s and mid-1970s have aluminum rather than copper wiring. Aluminum wiring has proved to be a fire hazard and its necessity to replace all the wires.
Smoke Detector
A smoke detector is a device that detects smoke, typically as an indicator of fire. Smoke detectors are typically housed in a disk-shaped fixture and are powered by the building power with a battery backup. However, in many single family detached and smaller multiple family housings, a smoke alarm is often powered only by a single disposable battery.
Dedicated Line
A dedicated line is simply a separate wire going back to your home's circuit breaker box. Our technicians take pride in knowing when it is necessary to add a new circuit and how to do the job in the cleanest and most efficient way.
Troubleshooting
Troubleshooting is means to locate the problem and then fix it. In Green Power Electric Inc. we are trained in troubleshooting procedure which enables us to provide our clients with means fast and accurate solutions to their electrical troubles.
GFCI Outlets
In recent years, the National Electric Code has included requirements for special outlets. These special outlets are required at : bathrooms, kitchens, pools, garages, near spas, and in some other outdoor areas. They are called "GFIs" or "GFCIs" (Ground Fault Circuit Interrupters).
A GFI detects that the current in an appliance is no longer flowing in its proper circuit. It shuts off the current within milliseconds.
In case of a problem electrocution would be avoided = a life saved.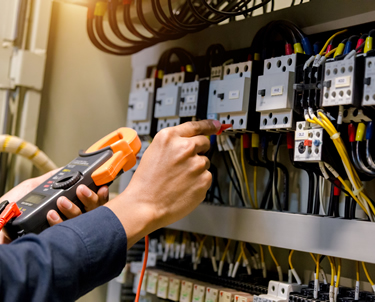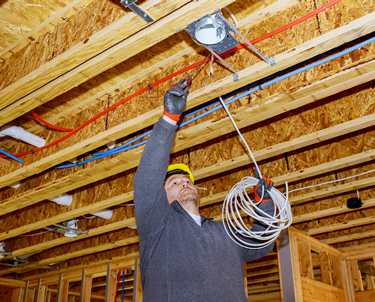 Always Hire a Professional
No matter how urgent any electrical repairs seem, it's never okay to attempt to handle them on your own. Trying to take care of electrical problems without professional training is extremely dangerous. If you or someone else aren't hurt during your attempt, there's still a chance that you've left something undone that poses a huge risk to you, your home, or your family. In fact, faulty electrical wiring is the number one cause of house fires in the United States, according to the National Fire Protection Agency. So in order to make sure that your home is safe, always rely on a professional for any electrical services.
When searching for a reliable electrician, call us at

(888)959-6852.

We specialize in electrical repairs, indoor and outdoor lighting installations, panel upgrades, and even hot tub wiring!
Get Service Now
Our Contacts
5739 Kanan Rd. #454, Agoura Hills, CA 91301
Mon-Fri 07:00 AM - 07:00 PM
Make an Appointent